Visual Management System Design: An Element of the Lean Management System
1 day
This one-day course is a deep dive course into the Lean Management System (LMS) element of Visual Management. In this course you will learn how to design and manage a cohesive Visual Management System that provides a complete picture on where abnormalities exist throughout the entire value stream. Instead of implementing individual tools, some of which may be useful and some not as much, a simplified visual environment is developed that instantly identifies an abnormality in the value stream enabling deeper employee engagement and problem solving.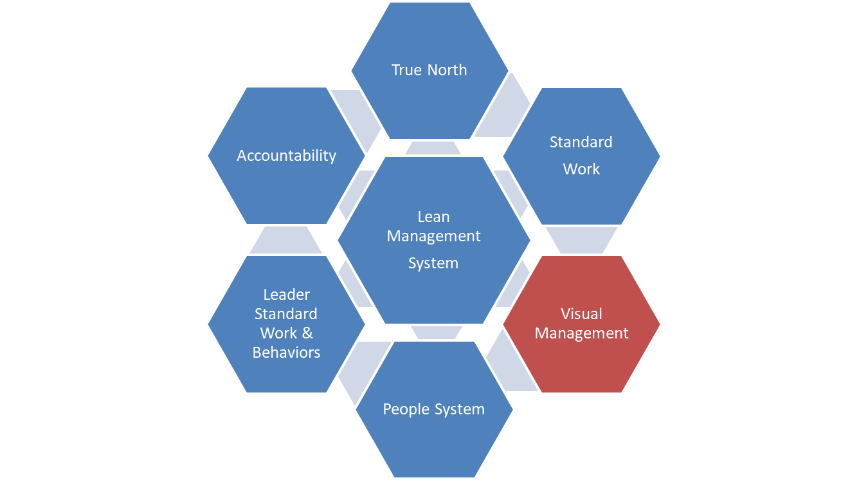 See as a Team – Know as a Team – Learn as a Team
In a traditional environment, at the end of each month or quarter there is a great deal of data gathering, analysis, synthesis, and deliberation over what just happened and what will be done during the coming period. This generally turns into a communication activity to share contingencies and corrective actions that may be required as more of the enterprise is engaged in course corrections. This has sometimes been characterized as steering a boat by looking at the wake.
In a Lean organization, managing the business is critically focused on managing processes in real time at the place where work is actually done (Gemba). The effect of this is that the end of the month is old news and essentially a non-event. To achieve this desired state, important business process information must be recorded and displayed in simple visual terms throughout the company for all to see and react to as it happens. Along with this, parallel visual tools inform everyone of what the process is and whether or not it's being adhered to. The areas of emphasis should have a direct connection with company strategy, and be integrated into the repetitive aspects of daily work. These same tools are used by the rest of the enterprise ensuring coordinated objectives and visibility. Thus, the principle of conventional management – "what gets measured gets managed" turns into "what gets measured visually gets managed in real time, by those doing the work".
This course deals with designing and executing comprehensive Visual Process Adherence as well as Visual Process Performance tools. Having one without the other breaks the cycle of Lean leadership and team learning. We will also explore how to migrate your organization from one of gathering data, synthesizing, meeting, and reacting to one of seeing waste, managing exceptions, and improving processes.
This course will show you how to tie together the tools of Visual Management with the remaining elements of The Lean Management System – True North, the tools of Strategy Deployment, Standard Work, Leader Standard Work and Behaviors, People Systems, and Accountability.
Course Outline
What is Visual Management and why change?
The attributes of successful Visual Management tools
What is Visual Process Adherence (VPA)?
What is Visual Process Performance (VPP)?
How successful Visual Management systems replace traditional methods rather than just add to the overall work load
Integration of Leader Standard Work & Behaviors with the Visual System
How to design a VPA system utilizing the Pulse Point Arrow
How to design a VPP system
Planning and executing the implementation of a Visual Management system
Benefits
As a result of attending this workshop, you will be able to:
Understand the distinctions among Visual Management tools and Visual Management systems
Effectively design a Visual Management system for your organization that is comprehensive while having proper level of detail while avoiding "visual clutter"
Understand how to implement the Visual Management tools effectively throughout the entire organization
Understand the keys to sustainability in process improvement
Understand how the workforce at every level utilizes Visual Management systems to identify and solve problems
Clearly understand the relationship between Visual Management systems and Leader Standard Work and Behaviors.
Prerequisites
Who Should Attend?
Business leaders
Senior operations managers with cross functional responsibility
Function Heads
Process improvement support personnel
Cross functional teams are especially powerful!
Contact

The Murli Group
Find out how we can help strengthen your company from the ground up

»