Lean Sales
Lean Sales
1 Day On-Line Course
Companies that achieve success with Lean in Operations are eager to apply these same principles to other parts of their organization in hopes of gaining similar benefits and efficiencies. Sales, however, is an area that has remained resistant to adopting Lean principles. Revenue generation is the lifeblood of companies and the stakes are high when it comes to making significant changes to traditional sales processes.
However, Lean IS an effective way to manage sales and marketing. You CAN clarify your sales process to identify ways to maximize value to a customer and eliminate waste.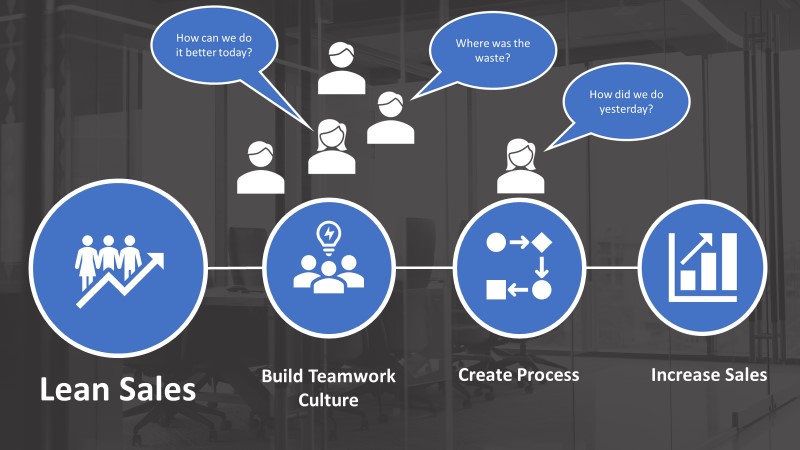 Of course, these changes can't be made in isolation. We must take a look at how we hire and manage sales professionals, how we approach customers, and how we align People Systems with the culture we seek in the sales organization. Specifically, we must examine the challenges to creating a sales organization that works as a team, guided by Standard Work, and that continually challenges that Standard Work and thereby continually improves upon it. If we examine the Lean Management System within a sales organization, the elements most affected are Standard Work, Visual Management, People Systems, and Lean Leadership Behavior. Ultimately, the constant thread through the entire enterprise is to establish a consistent culture of everybody, everyday, everywhere coming together and asking the 3 questions: How did we do yesterday? Where was the waste? How can we do better today?
Course Outline
How are sales people hired, managed, and compensated in a traditional vs a Lean thinking organization?
How is a traditional sales organizational design different from a Lean one?
What does a Lean Sales Value Stream look like and how it is different from a traditional sales Value Stream?
How can you develop and manage a transformation plan that incrementally and continuously moves you closer to a future state vision without disrupting the organization?
How do you measure and manage results as you go through the progression?
Benefits
As a result of attending this workshop, you will
Learn how an LMS functions and the benefits it can provide to a Sales organization
Develop an understanding of what Lean Sales Value Streams are and the benefits they provide
Design a future state Lean Sales Value Stream that is specific to your organization
Assemble an implementation plan that will logically transition you from today's current state to a future state vision in your sales organization
Carry out the basic Leader Standard Work necessary to achieve the future state vision of your organization
Prerequisites
Basic understanding of Lean Management Systems
Who Should Attend?
Sales Professionals
Senior Sales Managers
Business leaders
Process improvement support personnel

Cross functional teams are especially powerful!
Contact

The Murli Group
Find out how we can help strengthen your company from the ground up

»