People Systems: An Element of the Lean Management System
2 days/ 1 day online course
This course is a deep dive into the People Systems element of The Lean Management System (LMS).
Lean is much more than a set of process improvement tools. At its core, it is the development of an organization where everybody, every day, at every level comes together in teams asking "How did we do yesterday?", "What problems did we find?", and "How can we do it better today?", creating a perpetual cycle of continuous improvement. If the supporting people processes don't align with this target condition, it is almost assured that you will not achieve a sustainable continuous improvement culture. However, when we employ a structured approach that aligns People Systems and the expected behaviors, we are able to create the ideal work environment in a practical, safe, and predictable manner.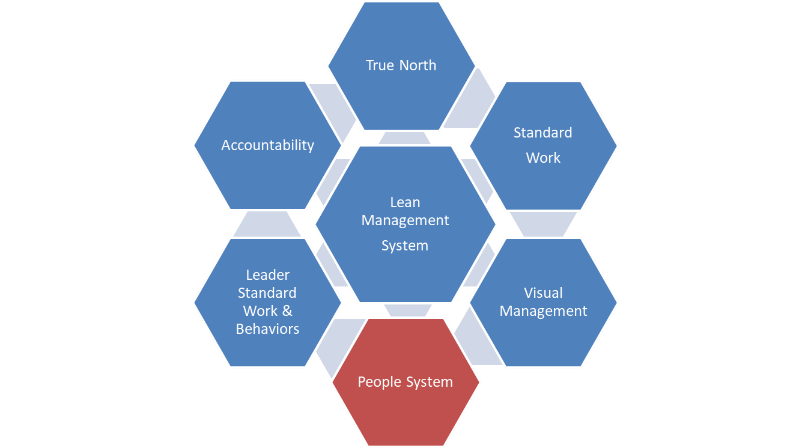 This two-day course encompasses a critical examination of the policies, practices, and systems that motivate people to think on behalf of the company. A unique characteristic of Lean is to capture the hearts and minds of the organization to have everyone every day think about how to carry out their work more effectively. Aligning People Systems to this goal is a requirement for success.
Participants will walk through the employee life cycle starting from the time a person is attracted to join the organization until they disengage, including all stages in between. Each of these stages contains critical milestone events that have large impact on the expectations of the individual as well as the organization's expectations of them. Participants will learn to identify gaps between the current state and the desired future state, as well as strategies for effectively closing those gaps. Exercises are included to relate the materials to each students' own organization and potential opportunities to affect improvement.
Lean Employee Lifecycle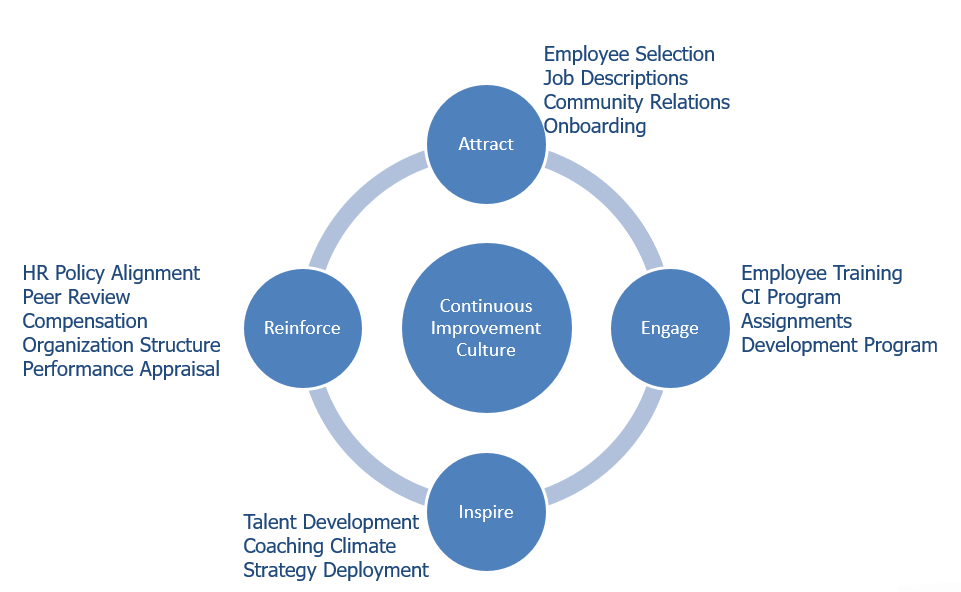 As transformations broaden and the organization becomes involved, we inevitably end up having to deal with the fact that the incentives built into our HR policies, systems, and practices are not aligned with the behaviors we seek in the future organization.
Change management is another element of transformation that is sometimes not adequately addressed. Organizations go through distinct and predictable reactions to change. These transitions have a direct impact on Leader Standard Work and Behaviors at each stage. Adequate tactical Lean transformation planning includes understanding who the stakeholders to this change are and how best to address each one throughout the transformation period. Along with this, a process needs to be installed that regularly pulses the organization throughout the more active transformation periods and provides leadership feedback on where the organization is culturally so that leadership can react appropriately at each stage.
At the end of this workshop, you will be knowledgeable in:
The characteristics of Lean organizations
A basic understanding of competency assessment
Cultural analysis tools assessing gaps in problem solving cultures
Learning how to identify and close gaps specific to People Systems and strategies for a successful Lean transformation
The phases of the employee life cycle and how to observe "markers" that drive Lean thinking behaviors
The impacts of developing a problem-solving culture on:

Attraction, selection, and on-boarding of new employees
Training
Rewards and recognition systems
Secondary influencers in the organization
Managing the competencies of the organization

Designing and execution of change management systems to support the Lean transformation process
Prerequisites
The Lean Management System overview course or demonstrated LMS experience.
Who Should Attend?
HR Professionals
Business leaders
Senior operations managers with cross functional responsibility
Function Heads
Process improvement support personnel
Cross functional teams are especially powerful!
Contact

The Murli Group
Find out how we can help strengthen your company from the ground up

»